Makimura Kaori
槇村 香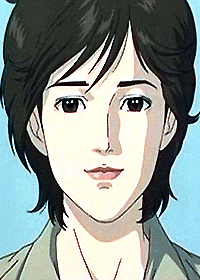 Affiliation
City Hunter Team
Voice Actors
Kazue Ikura (Japanese)
Kaori Makimura is one of the main characters of A.H. and the beloved partner of Ryo Saeba.
Due to her status as a registered donor, Kaori has her heart transplanted to Glass Heart after Kaori lost her life to an accident and the latter's suicide attempt. Her appearance in Glass Heart's dreams during her coma instigated the young girl towards Shinjuku.
Revealing her presence within Glass Heart at various points of the story, she unfolds her back-story and her cause of death. As Kaori continues to guide her, Glass Heart eventually appears at Cat's Eye Cafe, where Umibozu, despite his blindness, is able to discern Kaori's presence.
Kaori's prompting continues during Glass Heart's search for Ryo Saeba and causes some rebound from Glass Heart who is perturbed by her 'possession' but things gets worked out gradually.
RelationshipsEdit
Her police detective foster brother. 
Her love interest whom she left behind. She was his beloved and partner in the City Hunter Team. They first met under the circumstance when Ryo was injured by a gunshot and Kaori, who was working as a nursing student then, ended up saving him.  
AKA Glass Heart, she is the young girl who now hosts her transplanted heart.
Kaori's biological older sister.
An old friend who owns Cat's Eye Cafe.
An elderly doctor who knows Ryo, Kaori and Hideyuki well. Kaori used to work in his clinic when she was a nursing student.  
Kaori becomes a source of comfort to Miki when she could see her, relating to Miki about the existence of her mother, dwelling within her heart as a way of easily conveying the meaning of death.
Community content is available under
CC-BY-SA
unless otherwise noted.